Zoom the image with the mouse
Screen doors are often a great feature of the home, often used as a way to lead from a family room to the backyard. People often want to leave a door open to let in natural light and fresh air but are forced to keep doors shut as small creatures easily enter the home. Magnetic screen doors are a great option for those wanting fresh air and natural light, without small creatures.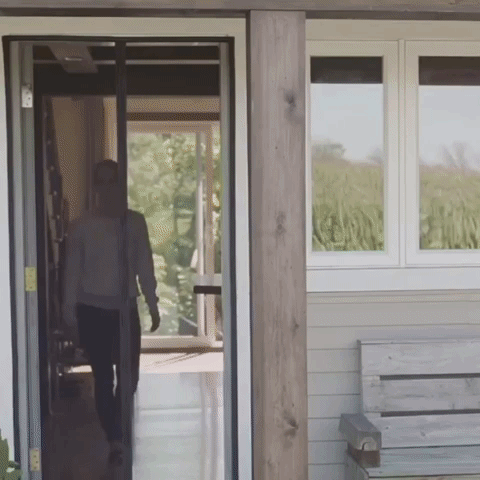 Magnetic Screen Door Features

Available in 55 standard sizes and custom sizes.

Instantly opens, magically closes

Easy for children & pets to walk through while blocking off any flies and insects from entering the house.

Fresh air in, sunshine in

Full frame hook&loop strip installation

Wrapped with thickened webbing on four sides, more sturdy and not easy to break

Anti-tearing and reinforced in the top middle

Thicker thread & close stitch length

Durable & strong fiberglass mesh

Each magnetic flyscreen door is installed in minutes with no tradesman tools required.

Fits single doors, French doors, sliding doors, caravan's, RV's and more

Durable, easy to clean

Folds up for easy storage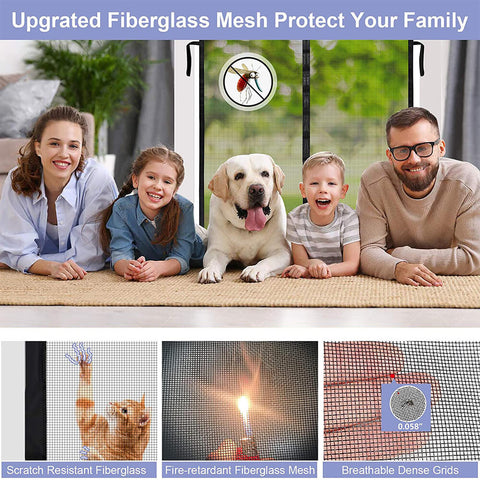 Additional information

Door Size (WxH) in.
28" x 80", 30" x 78", 30" x 80", 31" x 80", 32" x 80", 32" x 82", 32" x 96", 34" x 78", 34" x 80", 35" x 80", 36" x 78",36" x 80", 36" x 82", 36" x 84", 36" x 94", 36" x 96", 38" x 82",  40" x 80",48" x 80", 48" x 96", 60" x 80", 60" x 96", 62" x 80", 72" x 80", 72" x 96"more.

we're committed to making your life easier. Our magnetic screen door installs and uninstalls in just minutes, keeping out nature and providing a "no hands needed" and self-sealing way to get in and out of your home. Give yourself, your family, and your treasured four-legged friends the convenience of easy entry and exit and a home filled with fresh air.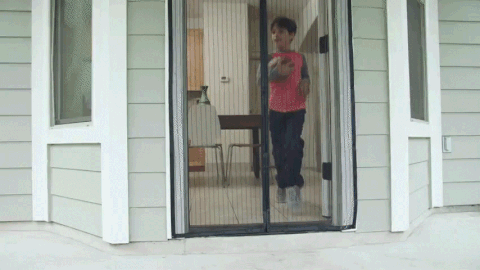 The screen door with magnets as seen on TV, our magnetic screen door is stronger. We promise unmatched reliability and exceptional craftsmanship. Don't be fooled by other cheap screens or the hassles of traditional screen doors. Our durable, heavy-duty mesh screen with reinforced edges will survive the test of time. Plus it's retractable and frameless, perfect for easy storage.
Love this screen curtain instead
Love this screen curtain instead of a legit door (which we removed)!In case it helps anyone, the black screen is much easier to see outside (see photo comparing).I had been excited to buy white, but our family all agreed the black is way better, so we went back to black.
It works great.
It is heavy duty and really does self close when installed correctly. The Center top should be slightly higher than the top side corners.
Enjoying Fresh Air
It arrived quickly with all the parts needed. Be sure to hold it up to make sure it fits (took 2 people). Ours didn't fit where we had planned but it looks great where it ended up. It was easy to install: we wiped down the door surround, attached the top first then the sides. We are enjoying a nice breeze so very happy with this product!
Almost perfect
My screen door was 2" wider than my order stated.
Dear customer,
Thank you for contacting us, and sorry to keep you waiting.
Both of your orders we have inquired about have been delivered.
Best wishes.
Lucy
Free Shipping on Order.
All items in the store take 1 - 2 business days to process (excluding holidays or weekends).
This period, due to very high demand, please allow up to 2-3 days(excluding holidays or weekends).
Orders typically arrive within 3-7 business days.
Alaska, Hawaii, Puerto Rico, and Guam orders may take considerably longer than the estimates.
After you place your order, you will immediately receive an email with a detailed summary of your order.
Once your order has been processed, we will send you another email with your shipping tracking number.
Any questions, please be free to contact us.
Our Email: Support@magicscreendoor.com